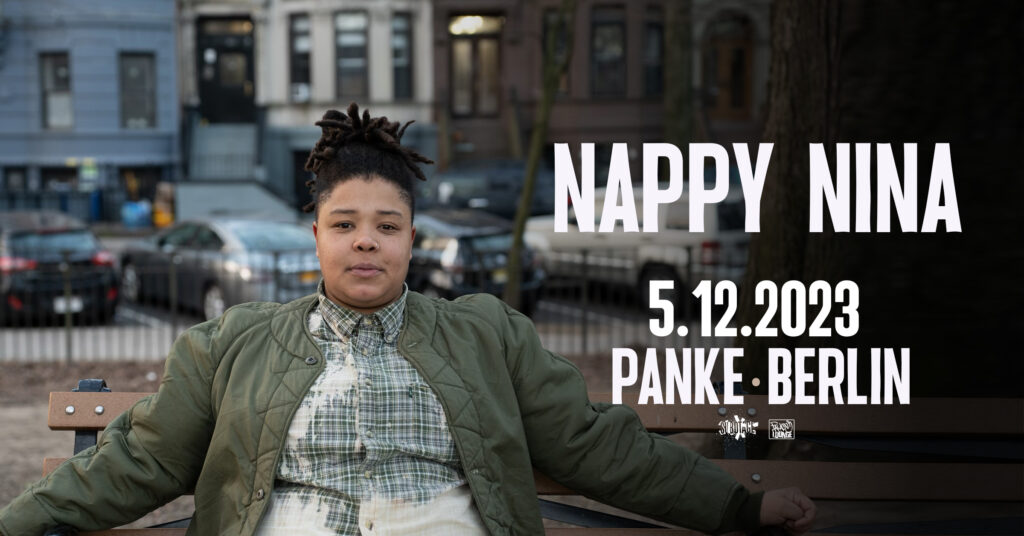 Nappy Nina
Panke | Berlin
05.12.2023
Einlass: 20:00h
Beginn: 21:00h
NAPPY NINA (Brooklyn / Bay Area)
w. Stas THEE Boss
05.12.2023 Panke, Berlin
Einlass: 20:00 // Start: 21:00
▄▄▄▄▄▄▄▄▄▄▄▄▄▄▄▄▄▄
Nappy Nina / @nappy_nina
Stas THEE Boss / @stastheeboss
Brooklyn based rapper Nappy Nina has carved out a distinctive niche within contemporary hiphop. Her storytelling skills and conversational but precise flow have seen the MC collaborate widely over the course of a young career, with figures ranging from hiphop veterans such as Quelle Chris and Stas Thee Boss, to DIY and avant garde musicians such as Moor Mother.
Growing up inn Oakland, she soaked up the confident sounds of the thriving West Coast hiphop scene of the 1990s, and made associations with writers and poets in the Bay Area and in the slam poetry community. After moving to New York in 2012, she quickly made a host of connections with the hiphop scene in Brooklyn, including a close relationship with Nelson Mandela, who she met on the street. She released a debut EP Naptime in 2015, and extended a lineage of jazz in her family (a broadcaster father-in-law, a musician grandfather) when she toured with Oakland trumpeter Ambrose Akinmusire in 2019, a year that also saw the release of her debut album The Tree Act. In the years that followed, she has released music with producers JWords (Double Down) and Bandela (Really Good), among others.
Her talent for observational detail and evoking inner states with her wordplay have seen her address issues including family relationships, mental health and the Black queer expérience in her music. Her new album Mourning Due addresses the experience of grief, and is released by the Lucid Haus label, of which she is co-founder.